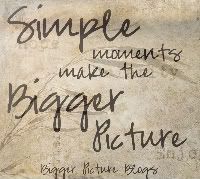 I felt so bad for him.
He had a horrible day. Nothing went right.
His winter camp went to the mountains for sledding.
He brought his brand new, super slick, 55 inch speed sled.
He got banged up trying to use it.
He scratched his arm and bonked his head.
The other kids got to use it more than he.
And when the van was packed up at the end of the day,
the sled didn't make it.
Nobody noticed until I picked him up this evening.
And the tears started rolling.
We hugged. I listened. A trip through McD's drive thru called.
In the car ride home, I listened as Avalon asked for Loudoun's help
putting the straw in her drink and opening her toy.
He did it with such care and compassion.
And Avalon said, "Loudoun, you're such a good brother."
Even in the middle of his frustrating day,
he didn't have to think twice about helping his sister.
The bond they have is amazing to witness,
especially when they don't know I'm paying attention.
Have you found the Bigger Picture through a Simple Moment this week? Link up with Sarah.