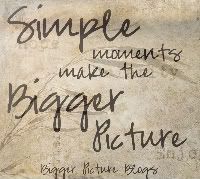 She rolled over and brought her face to mine.
Half asleep and still in dreamland, she curled one arm around my neck and gently said, "I'm going to snuggle you mama, so you can stay warm." Her voice filled with such innocence and compassion.
A snooze button ready to sound off, my desire to leave our warm, cozy bed diminished.
With only 3 and a half years of experience, she has already mastered grabbing my heart.
"I love you to your heart."
A phrase she made up. A phrase I hope she never stops saying.
The phrase that made me want to stay in bed with her all day.
One sweet gesture can take away the previous night's struggle to get into bed.
And can melt your heart all over again.
"Mama, I''m going to be a good listener today."
The promise of a new day, a new beginning.
A reminder to be merciful and kind.
They are learning.
We are all learning.
They teach us so much.
Do you have any simple moments in which you see the
bigger picture
? Join in at
Hyacynth's
!