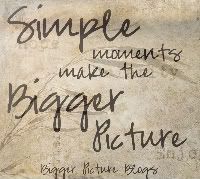 Upon arriving at Avalon's preschool to pick her up this afternoon, I noticed she had about 100 rocks in the belly part of her t-shirt, with the bottom seam flipped over holding them all in. She was so proud of those rocks, and when I tried to tell her she could take a couple of them home, she gave me a look that said anything less than 100 was going to be unacceptable.
Not sure how I was going to let her in my car with 100 rocks, I asked her to walk over towards the gate while I grabbed her stuff. On her way, little by little, rocks were falling out left and right, because her little tummy just isn't big enough to rest the rocks against.
When she arrived at the sidewalk, she lost grip on the seam of her t-shirt, and all of her rocks came tumbling down to her feet. She looked so sad and defeated. I told her to try and pick them up, and as I walked away to get her backpack, she yelled out, "I know Mommy, how about we get a box?"
Just as I got to her classroom, I ran into the principal, who was very excited to tell me she had just bought a box of cereal bars for Avalon in the mornings, because they are her favorite. And lo and behold, there was the perfect box for her rocks.
My Wednesday evening AA meeting is held at her preschool, and as I walked in tonight, I walked right over the few rocks she missed. And it made me smile. For she showed so much maturity in that moment. Instead of melting down, she problem-solved. And I let out a sigh of relief. We're getting there.
Little moments of clarity, understanding, creativity, beauty, among the chaos of motherhood and life. Those little moments many times offer us a glimpse of the
Bigger Picture
. The breathe of fresh air that gets us through the mundane day to day tasks. A little push, or validation that we might just be doing things right. Head over to
Sarah's site
for more bigger picture moments, or to add your own.