My son, if you accept my words and store up my commands within you, 
turning your ear to wisdom and applying your heart to understanding— 
indeed, if you call out for insight and cry aloud for understanding, 
and if you look for it as for silver and search for it as for hidden treasure, 
then you will understand the fear of the LORD and find the knowledge of God. ~
Proverbs 2: 1-5
I'm pretty sure that for the rest of my life, I will be amazed when I ask for wisdom from God and receive it and see it manifest in my life. It never gets old to witness that supernatural act that takes place, for it proves that He is listening, He loves, and prayer works.
Ever since Sunday's service, I have been praying for wisdom hard (we are studying Proverbs). Praying mostly in a general sense, to let God know I was serious about gaining His wisdom in my life. For I learned that we all can ask for more wisdom, and it is not like DNA or genetics where you're as athletic or gifted as you are going to be...wisdom can be increased throughout all of your life, just by seeking.
Shortly after beginning my prayers for wisdom, I read my weekly reading assignment for my Bible study (Learning to love people like Jesus loves). But something about this reading topic just really sunk in mores than other weeks, and I had about 4 huge defining moments that just left me shocked. The topic was empathetic listening (first seeking to understand, then to be understood), and how to listen better so that the person you are speaking with feels more loved and willing to open up and trust you.
Like a naive little child, I wondered if this could possibly the wisdom I had been seeking already! I mean, 4 A-HA moments…could it be from God?
The next morning, a friend forwarded me this daily devotional he received, out of the blue:
He that getteth wisdom loveth his own soul: he that keepeth understanding shall find good
. ~ Proverbs 19.8.
It was like God was waving His hands in front of me saying, "Hello? Do you hear me?"
So, I accepted this information as Wisdom, and was so excited to put it to good use immediately. I mean, we can all be better listeners, right? We can all show others we love them by paying attention when they talk, right? Little did I know this wisdom would be needed for a very specific use…immediately.
Loudoun has been having a hard time at summer camp. There aren't many details to share (and if there were, I still wouldn't to protect his privacy) other than he is shy and finds it tough to walk up to a group of kids at camp and start mingling. So much so, that sitting by himself seems easier than approaching kids some days (talk about breaking a mama's heart, to know your kid sat by himself all day…I get teary-eyed just thinking about it).
I soooo get this. Shoot, I'm still like this as an adult.
He came home in tears on Tuesday, but wasn't ready to say much or open up. Rick and I put our new wisdom into motion. And sure enough, slowly but surely, the suggested skills and tactics we were using helped Loudoun understand we wanted to help, nothing he could say would be embarrassing, and he was free to trust us with all of his feelings.
We have a good relationship with our kids, sure. But I think this week's wisdom really helped with specifics when it came to reading his body language, sensing his fear, and helping him open up in a loving environment. We spent all night talking about how we as individuals deal with interaction and socialization, what could make it easier for him, what some of the kids' interests are, and how about scheduling a pool party to invite them all over to get to know them better?
And the next day was so much better for him!
It is so hard to see your kids hurt, and emotional hurt is by far the hardest. Before I know it, both of my kids will be in the childhood years...a time of self-awareness, recognition and critical development, and I am so grateful God has provided some more tools for me to get through these years, supporting my kids to the best of my ability. I look forward to many more tools to come, as I seek wisdom continuously in my life.
With all my efforts but really the sustaining power of the Holy Spirit, I will forever do my best to make my kids feel the love in my heart, striving every day to love more like Jesus loves.
(going out for frozen yogurt always fixes a bad day)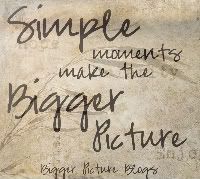 This was my Bigger Picture Moment for the week. It actually spread out over 3 days, thus making it even even bigger moment! Head over to Hyacynth's site today to see all of the BPMs, or to add your own.