A gentle answer turns away wrath,
but a harsh word stirs up anger.
Yesterday was a huge parenting FAIL.
I yelled, and didn't realize the repercussion til several minutes later.
It felt so natural to come outside and raise my voice. I mean, my daughter was hurt, my son and the neighbor had been running around with nun chucks, and in my mind it was my role to come out and halt the chaos with my power and loud voice. My husband had already grabbed my daughter and was consoling her, and I took it upon myself to sternly tell my son to PUT THE NUN CHUCKS AWAY.
There. Situation resolved. Boys went inside, daughter was sniffling away the tears, all better.
I went inside to find my son with his head buried in his pillow, his friend playing by himself across the room.
The soothing tongue is a tree of life,
but a perverse tongue crushes the spirit.
Shortly afterwards the kid went home, and it took me a good 1/2 an hour to get my son to talk to me. When everything came out, it was his friend who had hit my daughter with the nun chuck, not him. And I embarrassed him. Joey's mom never yells at him when they are at his house. And when I should have come out and assessed the situation and dealt with everyone with compassion, I didn't. I tore down his spirit.
And my heart broke into a million pieces.
And if I'm really honest with myself, I raise my voice to my son more often than I'd like to admit. The rowdiness, annoying burps and gross jokes and typical boy stuff is just too much to bear sometimes.
But he is a kid. And he is going to do kid things. And I need to not be so bothered by it and actually embrace it more, because it won't last forever. Most days I handle it well. But the days I don't? I really don't.
A hot-tempered person stirs up conflict,
but the one who is patient calms a quarrel.
I've often pictured an imaginary video camera following me around to keep me accountable from raising my voice. And that works most of the time, but wouldn't have worked yesterday. The advice I read last night after the incident really sat deep in my heart, and I think will make a difference as I parent during future frustrating moments.
Picture someone saying everything you say to your kids, TO YOU. same words. same tone. same attitude. same intent.
Loudoun? That's enough. Loudoun? Come on. Loudoun? Really?
Robin? That's enough. Robin? Come on. Robin? Really?
Not pretty. And now that he's growing up, it is all that more important. I can't parent him with power anymore. I need to parent him with intent, good choices, and security. And that can only work if I haven't broken his spirit.
Do not let any unwholesome talk come out of your mouths,
but only what is helpful for building others
up according to their needs, that it may benefit those who listen.
Ugh, parenting is hard. I'm a sinful mess and my bad moods and sharp tongue get in the way sometimes. I thank Jesus that he is merciful and gives wisdom every time I ask.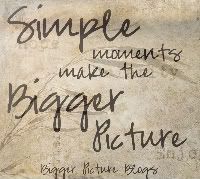 Head on over to Alita's this week for more bigger picture moments.