Y'all, work has been hard. I don't ever write about work here, because this is a public space and I keep my work totally separate, but it has been hard lately. Busy, trying, draining, and exhausting. Ya know, WORK.
But God has sent a couple of sweet gems my way and I just wanted to share. Yesterday as I sat at my desk eating lunch, exhaling deep sighs of
I'm so ready for today to be over
, my phone buzzed right next to my keyboard, and it was a friend from my Bible study texting me. Her text started out saying
she was praying I have a better day at work
and went on to say
I'm walking in the Light, I'm His beautiful daughter, etc.
She sent her text at the most perfect time, and sent such sweet peace my way.
And today when I got home from work, there was a handmade card in the mail from another friend in my Bible study saying she was thinking of me and wanted to send a card to say hello.
God builds you up when you feel worn down. And He does it in the most special, amazing ways.
Recently I've prayed for more of a desire to draw near to the Lord, because if we are all honest, it is so easy to get too busy and put prayer time aside. And if
I am
really honest, the thought of pure, quiet time alone with Him is quite intimidating to me. Since the beginning of my walk with Jesus, I have tended to pray in my head and that doesn't always work out so well because it is so easy to just get distracted and start thinking about other things. So, I made the decision to pray out loud and see how that went. And whoa, what a difference! Speaking out loud to God changes EVERYTHING. And when I'm left alone with Him, pouring out my heart, I find myself wanting to thank Him for everything and by the end of prayer I am in a different mindset, wanting to bring Him glory because He so deserves it.
And I believe in answer to my prayer desire to draw closer to the Lord, He has provided amazing revelations each time I trust in talking to Him. He is sharing so much with my heart, that I have been blessed with a new desire to draw near to my Lord.
Hallelujah, Amen.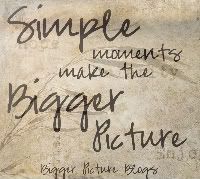 check out more bigger picture moments at
Jade's site
today.