My favorite place in the whole world is Catalina Island. We try and make it there as much as possible for our family summer vacation, and so far we've been getting over there about every other year. The last time was July 2010, and we have been looking forward to this year's trip since we booked in January.
This year was a lot different than all of our other trips for a lot of reasons, mostly the ages of our kids and our ability to relax and do things you can't always do with toddlers or babies, but the difference I want to hit on in this post was my desire to get out, move, and explore this year.
This year, without even trying, I woke up early every morning and got moving. Mornings were quiet and peaceful, cool and calm. The town wasn't up yet, so it was if I had the island to myself. I grabbed my iPod, put in earbuds, blasted worship songs, and hit the pavement. I walked inland and saw the hills, I walked around the neighborhood blocks and took in the cuteness of all of the cottages, I walked beachside and reserved our beach spot each morning and admired the beauty of the island coastline, and I walked uphill to the "Point," where I could breathe in all of Catalina. God, I love this island.
What amazes me is until recently I was L.A.Z.Y and had no desire to explore. No desire to move more than I had to. My family asked me to make that hike to the Point when I was younger and I laughed in their faces. If I wasn't walking down to the beach to lay there and tan, I wasn't walking there.
But something in me has changed, and the quiet time alone spent with God, admiring his creation has become so precious to me. The gift that my body moves in a healthy and energetic manner is something to cherish. I am so thankful that I don't think about alcohol anymore and wake up without hangovers, ready to start the day! And hiking to capture images such as the ones above gives me pride in accomplishment, to save forever. Blessings all around.
My favorite island keeps getting better and better.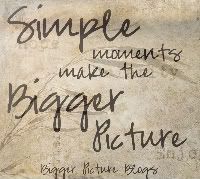 This was my bigger picture moment this week.
Head over to Hyacynth's for
more awesome Bigger Pictures.